You'll never run out of ideas of what to give this roundup of dollar store gift baskets. There is something for everyone and every occasion.
I love putting together a gift basket because I can personalize the gift to the person I'm giving it to. I also love saving money so you can understand why I'm loving this roundup. While there are lots of ideas you can copy, also use these as the base of an idea that you can create specifically for that special person. Like the pic above states, there are only three steps to creating the perfect dollar store gift basket… find a theme, a perfect container (and no, it doesn't have to be a basket, then fill that container with lots and lots of dollar store goodies.
Gift Basket Ideas for Her
These ideas can work for just about any occasion… birthdays, Mother's day, Christmas or just because.
1 – Give Her a Dollar Tree Gift Basket
The dollar stores always seem to have beauty products, so it's easy to put together a gift of spa products. Fill up a basket (this wire one is nice) and fill it with bath products. Bubble baths, salts or bath bombs are a good start. Then fill up of sponges or loofas, small hand towels and don't forget a candle or two.
2 – More Dollar Store Finds for a Spa Gift Basket
Kerry at Squawk Fox found all these found all these goodies at her local dollar store. Any combo of these products would be good in girly gift basket.
3 – Pedicure in a Jar with Dollar Tree Goodies
Remember what I said about the container doesn't have to be a basket. This is a perfect idea. You should be able to find all the pedicure products at the dollar store, and you might even find the Mason jars. I've found them there, usually in the Fall during canning season. Add a little ribbon (dollar store find) and print out some pretty labels on your printer.
4 – Summer Outdoor Gift Basket – Dollar Store Finds and a Little DIY
Who wouldn't love this gift basket idea, especially for an outdoor party? The products are all from a dollar store and the spray bottles are filled with a handmade bug repellent. There chalk to use on the sidewalk to play hopscotch (hey, you don't have to be a kid enjoy it and it's great exercise). There's also some bottle holders and cute little ice cream cone containers to hold snacks. But my hands down favorite are those flamingo lanterns.
5 – Watch this DIY Mothers Day (or Any Day) Dollar Store Gift Basket
Did you know you can shop Dollar Tree online? Yeah, you can. Take a look at this 👇 
Gift Basket Ideas for Him
If you thought there were no gift ideas for men at a dollar store, then you're definitely going to want to look at what I found below. These dollar store gift basket ideas will delight him… and your wallet.
6 – His Own BBQ Gift Basket that Inexpensive
Corral some barbeque equipment and supplies into a medium-sized container (love this wooden box above). Make sure to add some rubs and bottled sauces. Tuck in an oven mitt and if you can find an apron… well, all the better.
7 – Dollar Store Gift Basket for Your Favorite DIYer
Here's an awesome gift for your favorite DIYer. Just search the dollar store for all those things he's always running out of. You know, like the paintbrushes he never can find. Or the spray paint for that project he has to complete his latest project. Oh, and you can throw in some of his favorite treats to.
8 – A Fishing Gift Basket Fill With His Favorite Things
And of course, you know what those favorite things are on his next fishing trip… snacks and drinks. But do be sure to add some fishing paraphernalia.
9- Jar Up Some Food Gift Ideas for Men
Men and food our favorite theme for gift baskets. You know you can never go wrong and their easy to put together with dollar store finds. A big glass container like the one above can be dressed out in so many different ways, with so many of his favorite snacks.
10 – Lots of Gifts Basket Ideas for Him from Dollar Tree
➽ While shopping online with Dollar Tree is a great way to save money, did you know you can also earn back cash by shopping through eBates. Dollar Tree is just one of many online retailers that qualified purchases can get you a percentage back for what you spent. It's real money every three months, no lame surveys and 100% free. To find out more, use this link or take a look at the big green ad in the left sidebar.
Dollar Store Gift Basket Ideas for Kids
There are tons of products for kids of all ages at the dollar store, including toys and craft ideas. Here are a few of my favorite.
11 – A Gift Basket of Creativity for just a Few Dollars
There is never a shortage of crayons, colored pencils, coloring books or arts and crafts supplies at the dollar store. A gift basket like the one above is great for boys or girls.
12 – A Girly Gift Basket for a a Budding Tween
The Musettes (6 & 11) love their girly stuff and the dollar store is the place to get them. They would love received a basket filled with these goodies for any occasion.
13 – Check the Dollar Store Toy Aisle to Fill a Gift Basket for Boys
There's usually never a shortage of toys for boys in the toy section of your local dollar store that works for all ages. Cars were always big favorites with my boys. That cylinder of tiny cars could fill up a basket nicely.
14 – Holiday Gift Baskets for Kids
Via batonrouge.citymomsblog.com
Whatever the occasion, you will be able to put together a gift basket for kids with dollar store finds. This idea above would work well for a summer birthday. It's filled with a hat, sunglasses, sand bucket and tools.
15 – Watch How This Crafter Created a Sweet Baby Shower Gift Basket
Via YouTube.com
Dollar Tree Gift Basket Ideas for Family and Friends
If you have lots of people on your gift list, then shopping at a dollar store only makes sense. And there are sooooo many great ideas you and put together.
16 – Make a Dollar Tree Movie Night Gift Basket
Via snailpacetransformations.com
This is sure a much-appreciated gift idea for family, friends, or even a teacher appreciation gift. Scoop up a couple movie DVDs if your dollar store carries them.
17 – A Hostess Gift Using Mostly Dollar Tree Finds
Via awitchliveshere.blogspot.com
The next time you're invited to someone's house for dinner, forget the bottle of wine and assemble a gift of fun and colorful Dollar Store kitchenware pieces in a gift basket.
18 – Or Ditch the Basket All Together and Wrap of Your Hostess Gift in Kitchen Towels
Cute, huh?
19 – A Dollar Store Housewarming Gift of Essentials
This will be a much-appreciated gift basket idea for new home (or apartment) dweller.
20 – A Gift Tower of Cleaning Supplies and More
I-LUV-THIS!!! The dollar store has tons of cleaning supplies (or household essentials that would make a terrific gift idea for a housewarming or even your neghbor (who always seends to be borrowing a roll of paper towels).
21 – 3 Easy, Last-Minute Gift Ideas (for Christmas or Any Other Occasion)
Watch as Everything Mom puts together three gift baskets from her Dollar Tree haul. She's doing them as Christmas gift, but really, they can be used for any occasion.
Making Your Dollar Tree Gift Basket Look Amazing
If you think you lack the skill to make a fabulous gift basket, then here are a few ideas.
21 – Make an Inexpensive Gift Basket Look Expensive
The secret to gift basket is in their presentation.
"There can be five parts on how you make inexpensive gift baskets, the basket or container, the stuffing or shred (not always needed),  the transparent wrap or cellophane to wrap it, the bow/ornament and card to top it all off and of course the gifts that you are making the basket with. You might already have some of the items already on hand which will bring the cost down."
Good information to know.
22 – How to Make a Gift Bag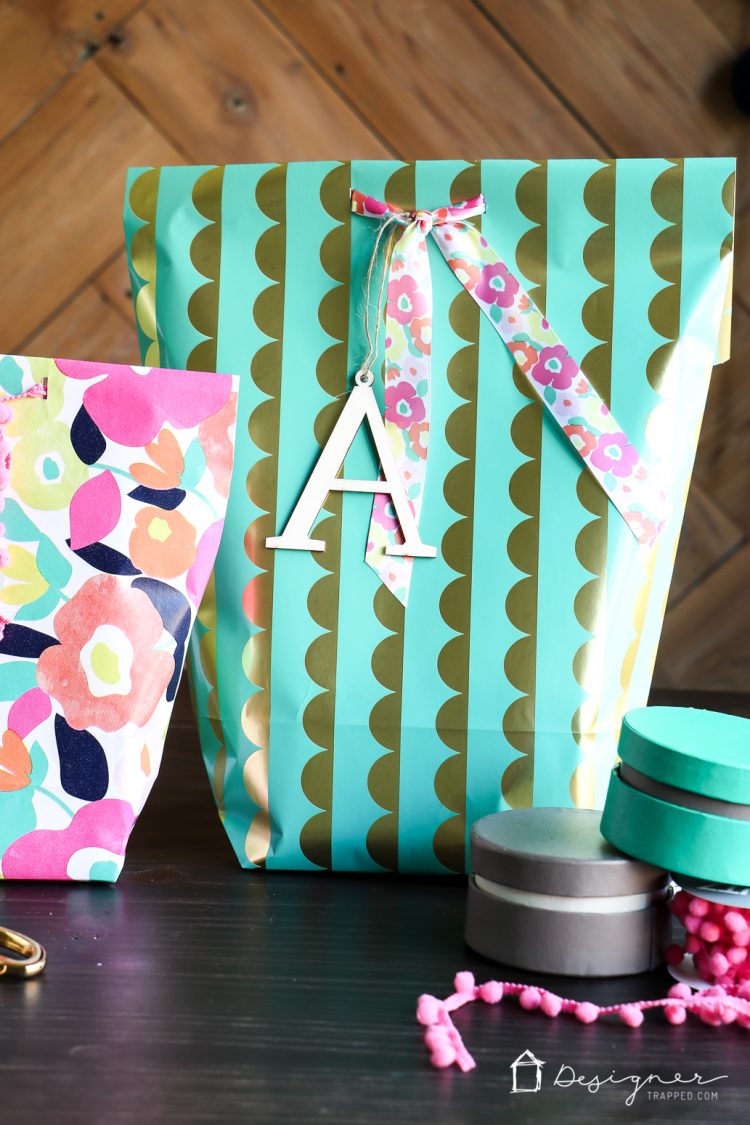 While baskets are always great containers, but you can also use gift bags… and make them yourself to keep it on the cheap. After all, a container is a container.
23 – Finish Your Gift Basket with a DIY Bow
A picture is worth a thousand words… right
24 – Now Watch How to Fill and Wrap a Gift Basket
And that it. Now, you should never be without an idea for gift giving, especially with these dollar store gift basket ideas.
Stay Inspired,