These family command center ideas will help keep your family organized and you sane. With so much going on in life, you shouldn't be without one. Want to see the awesome ideas I've found?
1 – Family Command Center Essentials
What are the elements of an efficient family command center? Jen's got it cover and she's shared her must-haves.
When you start thinking about creating your own spot, here are a few others things to consider, courtesy of Real Simple.
Find a spot that's central and works for everyone
Define some rules about what should–or should not–be in this area. Otherwise, it will be just another spot of clutter in the house
Oh, and find a place for those clutter-makers. You know, like "backpacks, 3-D art projects, magazines, newspapers"
Look for other options to file your paperwork than bulky, metal file cabinets
Make the paper shredder your best friend to keep the paper clutter at bay
Think binders and not boxes for storing paperwork you'll need to refer back to.
Make some spaces to easily access unfiled paperwork like the kids' drawings
Protect your most important documents in a fire-resistant safe
Create a style you'll enjoy
Organize in a grid (not a college, because that can look too messy)
2 – Big Organization Comes From Small Spaces
Big spaces are not needed to create a command center that works. Take a look at what can be accomplished in a closet situated between the dining room and living room. There's a lot of organization here. Oh… and the colors are terrific!
3 – Kitchen Command Center Takes Up Even Less Space
When you think of a command center you generally think of kitchen. After all, that's the heart of the home. I love how this Pinterest user organized the side of her refrigerator. Great idea, don't you think?
4 – This Bright, Playful Command Center is All Work
Via achievingcreativeorder.com
This is one of my favorite work walls. It's colorful. But it's has everything organized so well. I love those clocks so you know what time it is in other places. You know, if it's not too early to call mom in Denver or Uncle Sal in Indiana.
5 – A DIY Family Command Center that Easy to Do
Have an empty corner? Then here a DIY family command center idea you'll want to grab. It's start with a simple corner self. You can find a variety of them, similar to the one above, at Amazon.
6 – A DIY Magnetic Chalkboard is One of the Best Family Command Center Ideas I've Seen
Wow, it's amazing what you can make with a piece of metal and some chalkboard paint. Then add a few extras and you, too, can have a stunning command center.
7 – The Simplest of Family Command Centers
When you need to keep it simple, then this is the command center for you. Just a hanging file organizer with a binder, folders and a small calendar attached to the front. Genius.
8 – Everyone Gets Their Own Command Central Board
If you kids have lots of activities, then giving each of them their own board and a hook for backpacks is a perfect idea. I'd add a big family board and files off to the side as the primary command center.
9 – A Home Command Center You'll Want to Copy
If you're wondering what to put on your family command center, here are a few ideas. I also that everything in contained in small frames.
10 – Everything in It's Place Command Central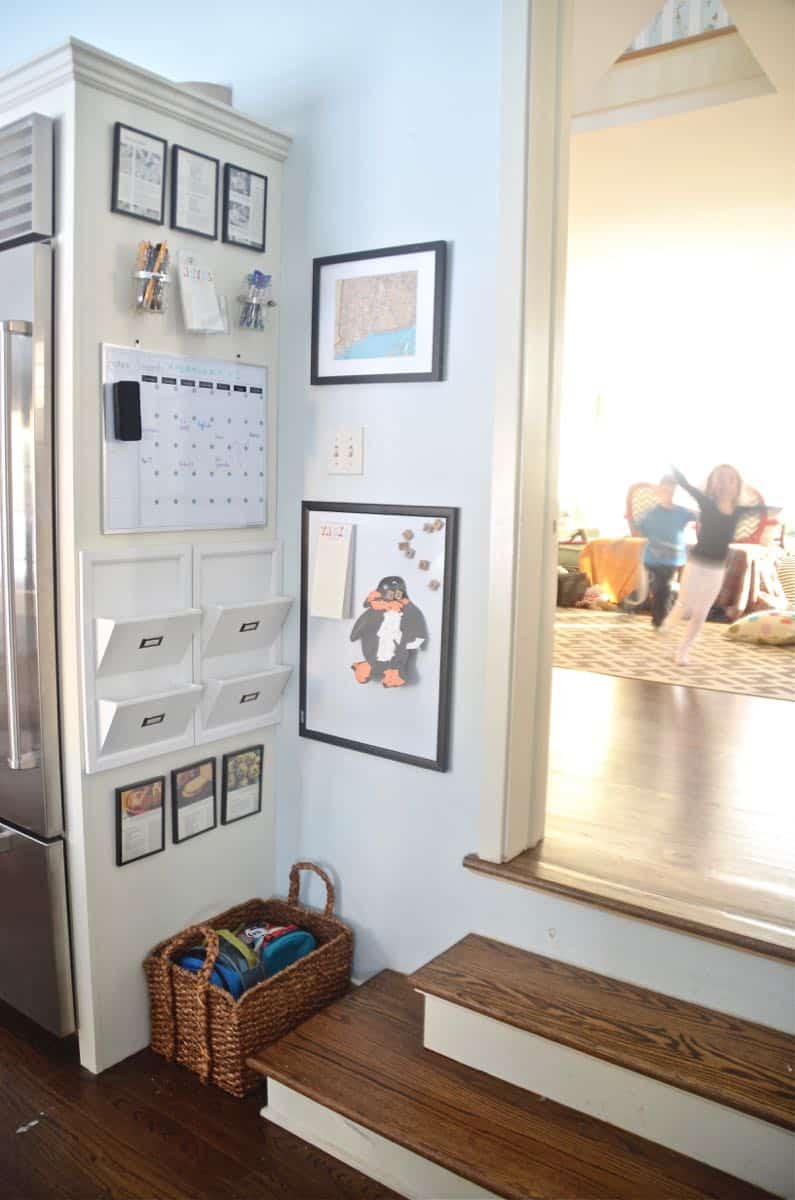 Another kitchen command center idea that uses a small space. But man-oh-man does it cover a lot of ground. I really like the basket on the floor to hold the kids' backpacks.
11 – The Most Important Family Command Center Idea
Keep things organized. Take a few minutes each day to tidy up, make sure your lists are updated and the clutter is dealt with. That's the only way you're going to those tribe in line and organized.
Stay Awesome,