Stinky pits? Yup, it's embarrassing. Luckily there are lots of remedies beyond deodorants. Keep reading to learn how to get rid of stinky armpit odor.
1. What Causes Armpits to Smell?
Bacteria. It's as simple as that. Armpits offer just the right environment for bacteria to grow. It's dark, warm and moist due to sweat. And it's can be pretty rank according to this NPR article:
When the bacteria break down the sweat they form products called thioalcohols, which have scents comparable to sulfur, onions or meat.
Yuck.
Deodorants and antiperspirants can help. But they've got a lot of nasties associated with them. Luckily there are a lot of ways–natural ways–to get rid of stinky pits. And I've found and compiled them here. What I love is that many of these use ingredients you normally have around the house.  Take a look and pick one or two of your favorite to try.
2. Use Vinegar to Treat Body Odors (Including Stinky Pits)
The reason vinegar works to remove body odors is because it is acidic and neutralizes and balances pH levels… making bacteria wave bye-bye.  The easiest method is to simply apply vinegar (good ol' apple cider or white) to your armpits with a cotton ball.
3. How to Use Baking Soda for Armpit Odor
Baking soda is great at absorbing orders. Think of it as a natural deodorant that kills bacteria and neutralizes body orders.
Just dust the mixture on your armpits. Let it sit for a few minutes to absorb any sweat and then be sure to brush off the excess before dressing.
You can also make a paste of baking soda, along with a variety of other ingredients such as lemon juice, rubbing alcohol or essential oils.
4. Cornstarch Also Work to Get Rid of Armpit Odor
You can use cornstarch just like baking soda. And for an extra dryness boost, you can combine the two.
5. Lemon Juice for Armpit Odor
Citrus juices can also kill bacteria and keep you smelling fresh. Just take a slice of lemon and swipe it across your armpit.  (A TIP, though, don't don't that on newly shaved pits… OUCH!!).
6. Use Rubbing Acholol for Bad Armpit Odor
Good overall hygiene is important, but when it's not enough, try wiping your armpits with rubbing alcohol discourage bacteria growth. That, of course, leads to smelly pits.  You can also use witch hazel.
7. Listerine as an Armpit Odor Remedy
Yup, good that big bottle of blue stuff can be used for more than just a mouthwash. Along with eucalyptus and time, Listerine also contains alcohol (to get rid of that back bacteria in your mouth). Douse a cotton ball with the mouthwash and wipe you underarm areas after you shower.
8. Fresh and Clean Armpits with Rose Water Spray
Rose water is usually used as a toner and astringent. But it can also be used to clean and remove underarm odor. It also smells sooooo good.
9. Make Your Own Natural Deodorant with Essential Oils
Making your own deodorant isn't that hard. The recipe calls for:
1 Tbsp Coconut Oil
1 Tbsp Mango Butter grated
1 Tbsp Beeswax Pellets
1/2-3/4 tsp Vitamin E Oil
2 Tbsp Arrowroot Powder or Cornstarch
10 drops Lemongrass Essential Oil or Rosemary Essential Oil
10 drops Tea Tree Essential Oil
Once you make the deodorant (for you and your friends), doll up the jars with some cute labels.
10. Or Buy a Natural Deodorant Online
No time to makes your own deodorant. Don't worry, you can find a variety of natural choices. Schmidt's Deodorant Stick, Bergamot + Lime is one of the top sellers on Amazon.
11. Foods that Cause Body Odor
Did you know there are some foods that can cause our bodies to make more unpleasant odors? Those foods may be some of your favorites, too. Sweets such a cookies, spicy foods, asparagus, fish, red meat, alcohol, cruciferous vegetables. Even low-carb diets can cause your
12. Reduce Body Odor with Foods You Eat
Just like there are foods that cause body odor, there's a group of food that help keep the stink at bay. Lots of greens are good for you to eat, alone with citrus fruits such as organges, limes and lemons. Ooo, do I see a salad for lunch?
This short clip from The Doctors explains why a lack of magnesium may be the odor culprit.
14. Stinky Armpits and Kids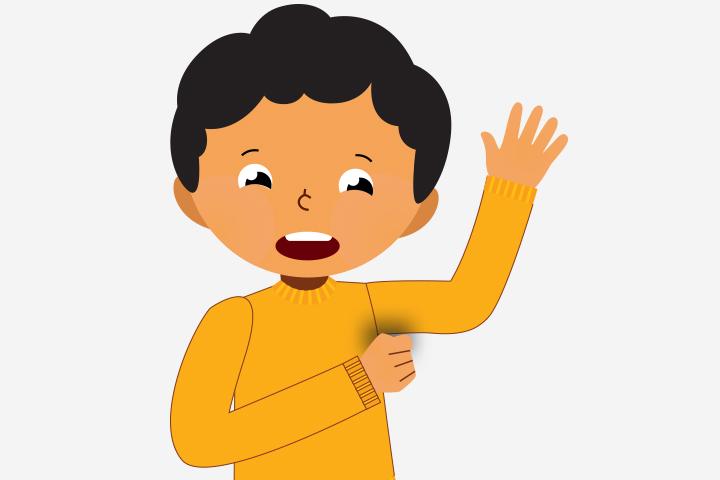 Yes, kids get stinky, too. And there can be a lot of reason. There may be some reason, such a puberty, but mostly there's not much to worry about that according to Sagari Gongala at Mom Junction.
Sweating in children is normal. So is a little smell from their clothes and body when they have been physically active all day. Body odor in kids is not as apparent as it is in adults but it can sometimes be similar to that of grown-ups.
Make sure kids bath and shower regularly, have fresh clothes and eat a healthy diet. If they're still a little smelly, they use some of the natural underarm odor treatments mentioned here.
15. How To Remove Ugly Yellow Armpit Stains Cheap and Natural! (Video)
If your clothing is already stained due sweat and commercial deodorants and antiperspirants then no worries. Beth (aka The Crunchy Housewife) has you covered.
16. #1 Home Remedy Treatments for Armpit Odor
Sadly, there is no number one remedy for stinky pits. Each of us and our unique body odors will respond different methods. Natural is definitely the way to go, however. There are a lot of ideas here to try… so start with one and see what works.
I hope this roundup of ideas will help you… well, smell sweet.
Stay awesome and inspired,