Having a bad hair day? Maybe a natural hair product like one of these homemade hair conditioner recipes is just with the stylist's ordered…
A few months ago, I was reading the back of my conditioner bottle and I was blown away. Stearyl alcohol, behentrimonium methosulfate, bis-aminopropyl dimethicone??? Yikes! I don't know what any of those ingredients are but I bet they had something to do with my hair feeling like straw. I've been on a mission since to find something better… more natural treatment. I've been gathering–and trying out–homemade hair conditioner recipes.
1 – Vinegar… As a Natural Hair Conditioner, That's as Simple as it Gets
Tiffany at Don't Waste the Crumbs has done a lot of the research for us and after some tries and fails at homemade hair conditioner recipes, she found simple is the best. A diluted vinegar rinse every other day, followed up with a touch of coconut oil on her ends.
2 – Lemon Juice Boosts Shine and Helps Oily & Limp Hair
Lemon juice is an alternative to use for vinegar on hair… and it smells really good, too.
3 – Kicking Up the Vinegar and Water Conditioner
A few drops of essential oil takes a simple vinegar and water can help with special conditions.
Add 6 to 8 drops of bergamot, lavender, lemon, rosemary, sandalwood, tea tree, or ylang ylang essential oils in 1 cup of a 50/50 solution of vinegar and water rinse for greasy hair
Add 6 to 8 drops of tea tree, peppermint, eucalyptus, lemon, sage, or rosemary oils for dry scalp or dandruff
4 – Protein Rich Egg Treatment for Deep Conditioning

Leave this mixture on your hair for about five minutes and then rinse out. Try to d0 it a couple of times a week for the best results.
5 – The Benefits Of Mayonnaise as a Hair Treatment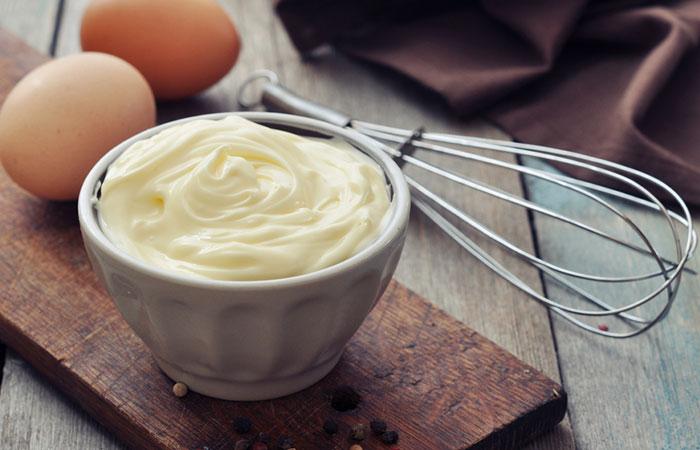 Meenal at Stylecraze shares these benefits from a food staple most of us have in our refrigerators.
Growth
Straightening
Conditioning
Manages curly hair
Protects colored hair
Treats dandruff
Calms fizzy hair
Removes lice (oh my, I didn't know that!)
6  – Avocado, Honey and Olive Oil Hair Mask
Avocado is rich in fats and oils that are good for the inside of you and for your hair. This hair treatment recipe calls for the following:
1 ripe avocado, pitted, scooped and mashed
2 tablespoons olive oil
2 tablespoons honey
Mix it all together and put on hair. Top with a shower cap and sit under a hair dryer for about 30-40 minutes and then wash out.
7 – How to Make a Coconut Oil Deep Conditioner for Your Hair
Jillee at One Good Thing uses three simple ingredients in her natural hair cconditioner
2 tablespoons coconut oil
1 tablespoon jojoba oil
3-5 drops essential oil (your choice)
8 – Deep Conditioners for Black Hair
Out of the five recipes from Natural Hair Rules, I like this one with Greek yogurt. It's full of proteins and fat and good for taming hair (BTW, this would good for any type of hair).
1 cup plain Greek Yogurt
1 tablespoon castor oil
1 tablespoon coconut oil
1 whipped egg
Mix the ingredients into a paste and apply to damp or wet hair. Live on for an hour (oh, and add a shower cap if you don't want to drip).
9 – Make a Hair Conditioner Using Aloe Vera Juice
Many of conditioners you buy in the stores tout aloe vera as an ingredient. But it's so much cheaper and not all the hard to make at home. Here's what you need:
2 tablespoons lemon juice
1/4 cup aloe vera juice or gel
3 to 5 drops of your favorite essential oil (or oils)
Mix, pour over freshly washed hair. Let stand for about two to three minutes and then rinse off.
10 – Shea Butter Makes a Great Detangling Conditioner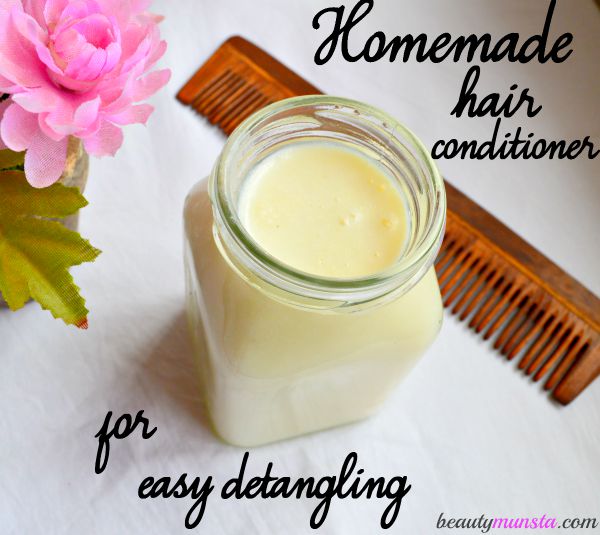 Not only does this homemade hair treatment detangle, but it's good for nourshing and moisturizing your locks. Mix it up good (a blender helps) and keep it in a jar. Use once (or maybe twice a week). Here are the ingredients:
11 – Beer for a Thicker Hair?
Yup, that's what Women's Day Magazine says. That beer is full of things such as yeast which plumps of fine and limp hairs. (Who knew… but I'll give it a try if Mr. Muse will let me have one of his bottles!) The magazine goes on to say that you need to mix 1/2 cup of flat beer with 1 tablespoon of oil and 1 egg. Mix it together and put on your hair and leave it on for about 15 minutes before rinsing it out.
12 – 10-Minute Miracle Hair Mask for Dry, Damaged, Rough & Frizzy Hair (Video)
Watch! With just a few ingredients from the kitchen, you can create your own hair conditioning mask. Here's what you'll need:
2 tablespoons unsalted butter
4 teaspoons milk
2 tablespoon extra virgin olive oil
2 tablespoons castor oil
2 tablespoons honey
1 tablespoon glycerin (food grade)
Mix into a paste and apply to hair. Leave on for 10 minutes and then wash out with a mild shampoo.
What Homemade Hair Conditioner Treatment are You Ready to Try?
I've learned a few things while rounding these ideas (gotta try that beer thing). Here's the great thing, however, these are so easy and inexpensive that you can try them all until you find the perfect recipe for your hair. Give them a try and let me know how they work for you. In the meantime…
Stay Awesome,