With a nip in the air, I'm rounding up the best homemade vegetable soup recipes from around the Internet because it's my Fall & Winter comfort food. Come see… and eat!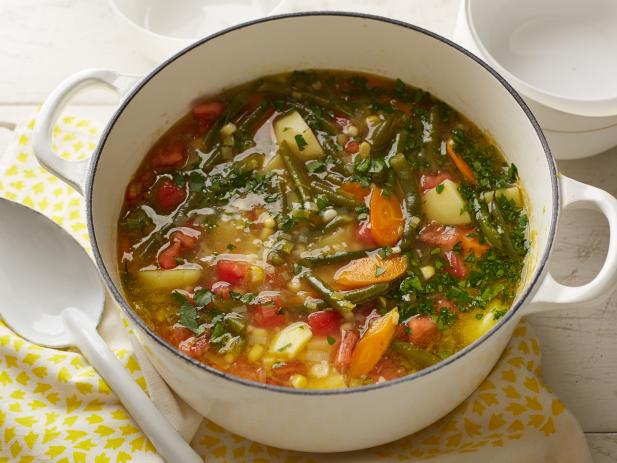 Homemade vegetable soup recipes? You bet… people love their soup and especially homemade vegetable soup recipes like the one I've rounded up below. There's something about cooking together a bunch of veggies with or without meat that makes a dish that can warm your body and soul. It's also one of the best ways I know how to eat lots of vegetables. If you're a soup lover like me and looking for a delicious and nourishing dish for your family, then take a look at what I've found. Oh, and be sure to use the big orange button above to download this post as a PDF to keep around for tomorrow's soup… and the day after… and the day after!
Beef Based Homemade Vegetable Soup Recipes
---
1 – A Mom's Old-Fashioned Vegetable Soup
When I think of a homemade vegetable soup recipes, this is what I think of… a heart beef and tomato stock with lots of veggies.
2 – How to Make Old-Fashioned Beef Vegetable Soup
Follow this recipe and you won't be sorry.
3 – Beef and Vegetable Barley Soup
Barley and beef go so well together and make a hearty soup. Just add a thick piece of bread (homemade, of course) and you're ready to stave off a cold winter's night.
4 – Easy Hamburger and Vegetable Soup
Just a bit of meat, even hamburger adds lots of flavor to a bowl of vegetable soup.
5 – Vietnamese Beef Pho
Beef Pho soup is a new passion here At Muse Ranch. It takes some time, but it's well worth the effort. The first time I made it, I didn't have star anise, but fennel worked in a pinch. Next time (very soon) I'll be ready with star anise in hand.
Vegetable Only Based Soup Recipes
---
6 – Tuscan Vegetable Soup
Ooo, one of my favorite veggie only soups. Extra Parmesan cheese, please and a thick slap of rustic Italian bread.
7 – Harvest Vegetable Soup
Via healthyseasonalrecipes.com
Lots of good things in here, like those thick pieces of butternut squash. Yum.
8 – Tortellini Minestrone Soup
Little pinched tortellini's floating around in a bowl full of vegetables and broth. How can you resist that?
9 – Quinoa Vegetable Soup
Have you tried quinoa? It's a grain that can be used in place of rice and it is delish.
10 – Mushroom Vegetable Soup in a Hurry
I love this combo of veggies in a flavorful broth.
11 – Thai Curry Vegetable Soup
Talk about flavorful… this is great.
Chicken Based Homemade Vegetable Soup Recipes
---
12 – Simple Lemony Chicken and Spring Veggie Soup
I love lemon and rice soup, but this recipe has me rethinking. Instead of rice, add lots and good vegetables, which is healthier but still has that tangy taste crave.
13 – Vegetable and Chicken Soup
This looks so yummy.
14 – Hearty Chicken Vegetable Soup
This, too.
15 – Chicken Taco Soup
Lots of chicken, veggies, beans and spicy Mexican flavor in this homemade vegetable soup recipe.
16 – Chicken Zoodle Soup
Do you zoodle? All you need is a spiral vegetable slicer to make pasta-like noodles from vegetables like zucchini.
Creamy Vegetable Soups
17 – Cheesy Vegetable Chowder
This is like a soupy version of chicken pot pie. Oh yum.
18 – Quick and Easy Creamy Vegetable Soup
An immersion hand blender is a must have for making creamy soups like this (works great on whipping heavy cream for pies, too)
19 – Thick and Creamy Pumpkin Soup
It's fall… and that means pumpkin time. But really, you can eat this soup anytime of the year as long as your pantry is filled with canned pumpkin.
20 – Creamy Sausage and Tortellini Soup
This is a great combo of flavors and that its creamy… well, that makes it even greater!
21 – Cheesy Cauliflower Soup
Cauliflower is one of those veggies we eating more of here At Muse Ranch. It's a great low carb substitute for potatoes and rice and is so mild it takes on the flavors of other foods it's cooked with. I love that that the cauliflower in this recipe is left whole.
22 – Thai Pumpkin and Sweet Potato Soup with Lemongrass and Ginger
I have a feeling this is going to become one of my favorite soups this winter.
23 – Creamy Potato Soup
Potato soups with carrots and bits of bacon… nothing wrong with that!
24 – Butternut Squash Soup
This yummy soup has become a winter staple in our house. That's because Mr. Muse has an affinity for growing butternut squash. Last year the haul was over 600 pounds (150 for us and 350 pounds for the birds).
Have You Found Your Favorite Homemade Vegetable Soup Recipes?
There are a lot of great recipes here so I hope you find one… two… or 25!
Stay Awesome,
[sc name="Homemade Vegetable Soup Recipes"]