Looking for a way to heal severely cracked heels? I've rounded up some savvy solutions from around the Internet, including my personal favorite.
I don't think the Google search engines ever get a break from people who are looking up how to "heal severely cracked heels." In summer it's because many of us run around in bare feet and sandals exposing our feet to all kinds of harshness. And, In the winter it's all about dry weather. Ugg! It's almost never ending. Fortunately, there's not shortage of cracked heel treatments. And many of them are simple to implement. I've gathered some of the best of the best remedies for dry, cracked feet and put them here for you to easily find. I'm even adding my personal foot care routine that's been working for me. So… are you ready to get those feet looking and feeling great?
1 – A Doctor Talks About Heel Fissures
Here's the info you need about cracked heels causes and repairs straight from the doctor's mouth.
2 – Heal Severely Cracked Heals with Baking Soda
It seems like baking soda is good for just about everything, including as a cracked heel repair.
3 – Heal Your Feet with a Apple Cinder Vinegar Soak
An apple cider vinegar soak for your feet has lots of benefits, including rough, cracked feet. I know, it sounds counter-productive and should be drying, but lots of folks swear by it.
4 – The Mouthwash and Vinegar Food Bath
Via momeefriendsli.wordpress.com
Another soaks that gaining lots of popularity amond cracked heel treatments is a soak with vinegar, Epsom salt, water and… mouthwash. Yup, you heard me right.
5 – Lemon Treatment for Cracked Heels
Lemons on the heel (held on with socks) is another to treat cracked feet.
6 – Cracked Heel Remedy with Hydrogen Peroxide
Many people like this Hydrogen peroxide treatment, along with a good exfoliating to get off all the dead skin off of dry feet..
7 – Essential Oil Salve for Cracked Heels
One of the best cracked feet treatment is a heavy, cream. And when it has essential oil in it… well all the better.
8 – More Essential Oils to Help with Dry, Cracked Heels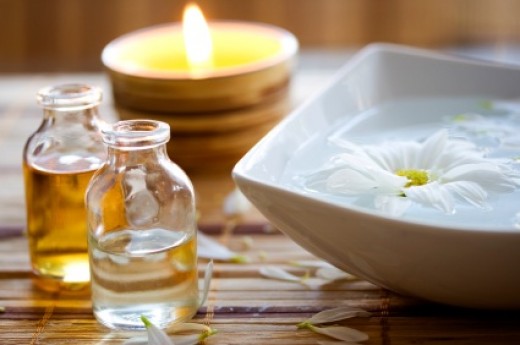 Essential oils such as peppermint, lavender, patchouli, cinnamon, and oregano all have great healing properties and are good for dry feet. Make sure to use a good carrier oil. Argan oil is a good choice.
9 – Fix Cracked Heels with a Salt, Coconut Oil and Lavender Scrub
Exfoliating with a good foot scrub is important, too. This Epsom salt, coconut oil and essential oil treatment is a good way to polish up thos footsies.
10 – Make an Essential Oil Salve to Cure Cracked Feet
Also, treat your feet well with cracked heels remedy like this salve.
11 – Banana Foot Mask to Smooth Feet
A hydrating mask for your feet? Why not? You spend so much time standing and walking and those feet need lots of TLC.
12 – Hydrating and Exfoliating Banana and Foot Scrub
Banana Coffee Foot Scrub + Soak | HelloGlow.co
Hmm… interesting idea. I would have ever thought of using coffee grounds this way, but why not?
13 – My Daily Routine for Cracked Heel Treatment and Prevention
It's taken me some time to come up with my how routine to heal severely cracked heels. Part of is is DIY and the other part purchased products that are easy to find and that have worked for me. So, here's what I do…
Soak my feet at least a couple time a week, usually in a one of the above baking soda or vinegar recipes. Or… just a nice long bath in the tub.
I exfoliate my feet morning and night. Currently, I'm using the Mr. Pumice Pumi Bar. They're more sponge than hard pumice and work well.
I slather on Blue Goo ointment. It's just so rich and smells like apricots   I use it lightly in the morning if I'm wearing socks and tennis shoes. And I always use it at night with…
A pair of socks. Plain cotton socks work well, but sometimes when I feel like treating myself, I use these Airplus Aloe Infused Socks. I also just wear these around the house in the winter instead of slippers. They very, very soft and are infused with aloe and vitamin E. they can be washed and over time the aloe and vitamin E will wash out, but they're still great socks.
14 – And Here's the Most Important Tip to Heal Severely Cracked Heels
Be diligent, just as Dr. Kilberg mentioned in the beginning video. Also, if non of the treatments above seem to work and and see a doctor. Nasty, cracked (and painful) feet are nothing to play around with. Until later…
Stay Inspired,
[sc name="Heal Severely Cracked Heels"]