Here's a roundup of 20 slow cooker breakfast ideas that are as easy as can be. Just fix, sleep and wake up to a warm, healthy meal to start the day.
1 – These Slow Cooker Breakfast Ideas are a Great Way to Start a 9Stress-Free Morning
Mornings are hectic enough, even on weekend and holidays. So wouldn't it be wonderful to wake up to a breakfast just waiting for you? That's exactly what you get with these 20 slow cooker breakfast ideas. They're a fix, sleep and then eat recipes that are so easy to put together… and delicious, too.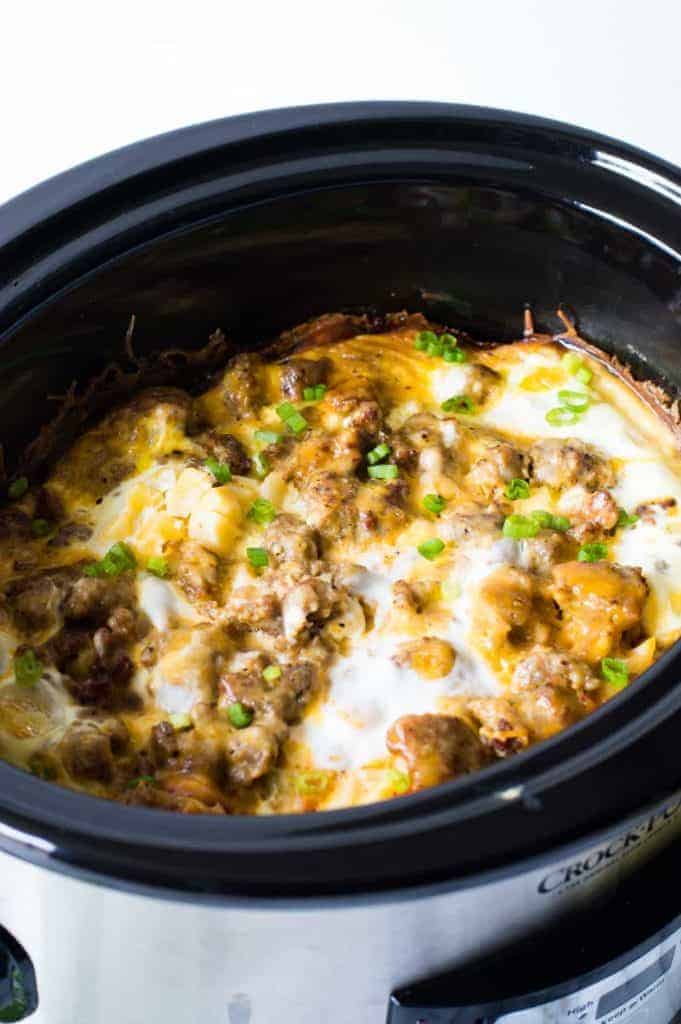 Slow cookers have revolutionized how we cook, but they're not just for dinnertime. Wouldn't you love to wake up to a cheesy, egg and sausage casserole?
2 – First, Let's Look at How to Make a Breakfast Casserole in a Slow Cooker
It's super, super simple to whip ups all the breakfast goodies the night before and let the slow cooker do the rest of the work.
3 – Bacon, Egg & Hash Brown Breakfast Casserole in a Slow Cooker
All your favorite breakfast ingredient are ready for you first thing in the morning.
4 – Slow Cooked Cheesy Breakfast Casserole with Sausage

Oh,  my I just love what Chungal does at Damn Delicious. Her recipes are always fabulous.
5 – Healthy Slow Cooker Breakfast Scramble with Turkey
This variation on a slow cooker breakfast casserole uses turkey and lots of seasonings to make a healthy breakfast.
6 – Slow Cooker Italian Breakfast Casserole
All I can say is… hmmm! I might try this for a dinner recipe, as well.
7 – Mexican Brunch Bake in a Crock Pot
Add some warm tortillas and this is better than heading to your favorite Mexican spot for breakfast.
8 – Slow Cooker Breakfast Burritos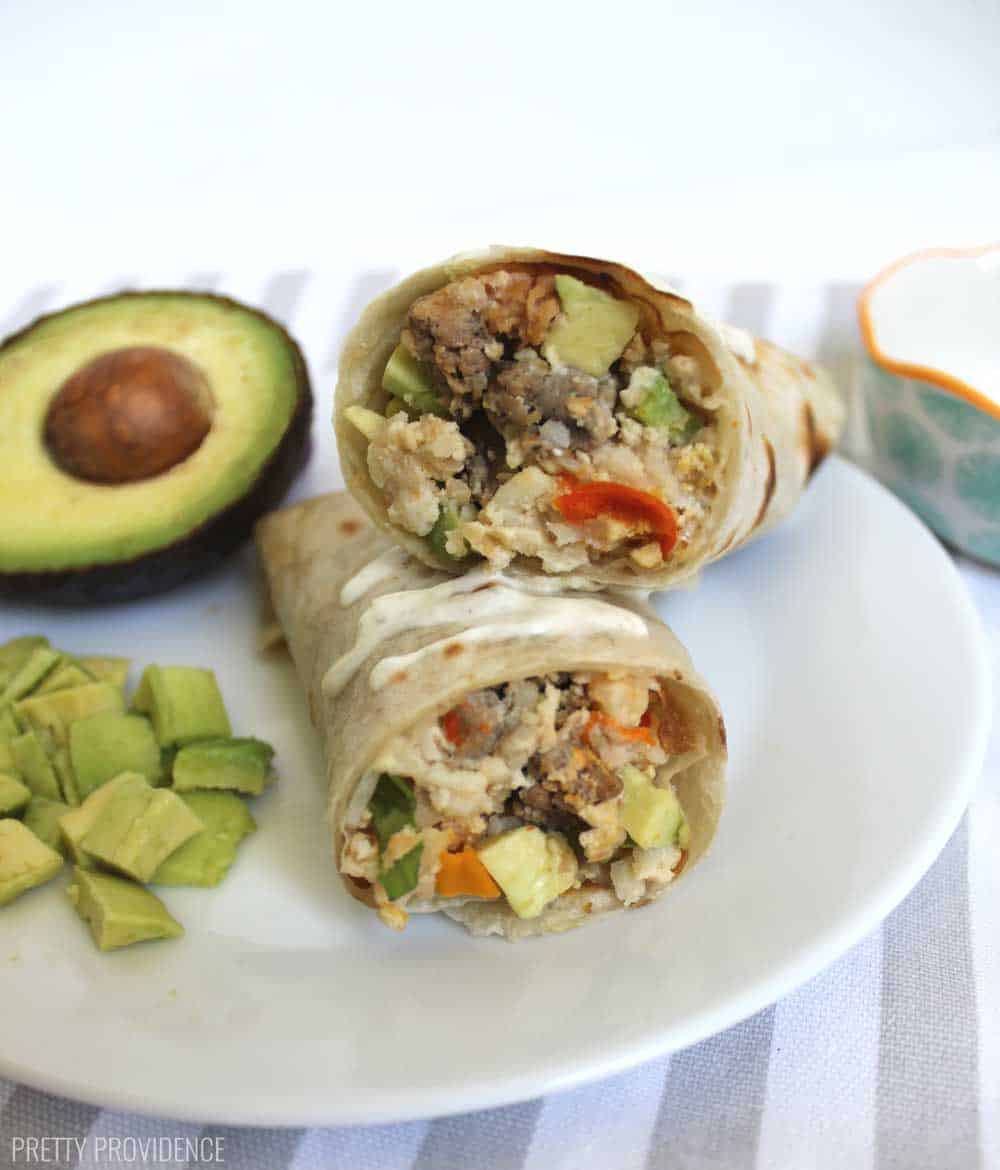 You'll never need to stop at the nearest fast food on the way to work if you whip up a batch of these breakfast burritos. Just wrap them up and stash in the refrigerator. They're ready to grab when you need them.
9 – Biscuit and Gravy Crock Pot is One of One of the Most Unique (and Delicious) Slow Cooker Breakfast Ideas
I love biscuits and gravy but it always seems such a hassle to make. Now assembling the ingredients the night before… well, that's something I can do.
10 – Healthy Cauliflower Hash Browns Slow Cooker Breakfast
If you've been low carbing it and substituting cauliflower for potatoes and rice, then this is a recipe you're going to want to try.
11 – Make Ahead Breakfast Stuffed Peppers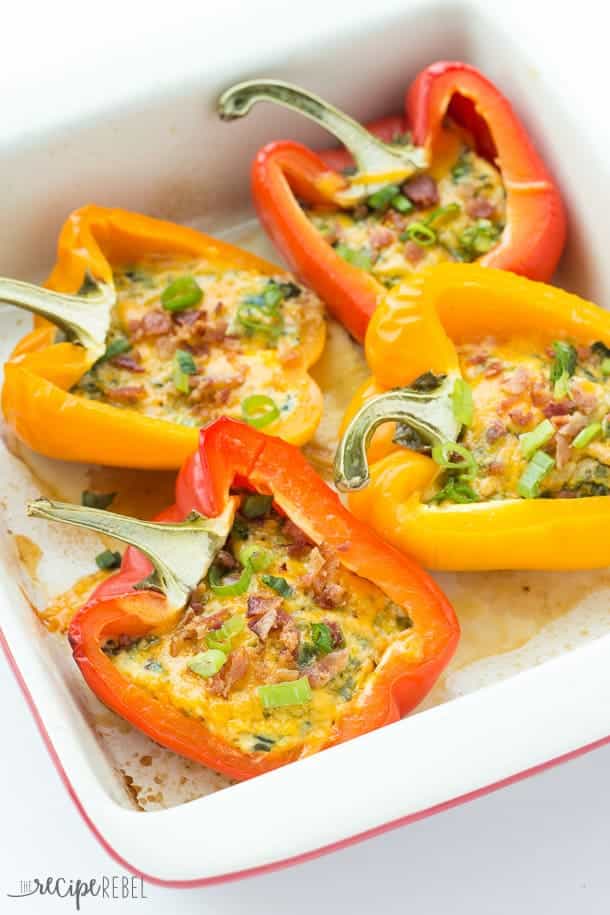 Not only are these breakfast stuffed peppers beautiful, they also healthy.
12 – Slow Cooker Tater Tot Breakfast Casserole

When it comes to slow cooker breakfast ideas, Tator Tot fans give this recipe a big thumbs up.
13 – Slow Cooker French Toast Casserole
If French Toast is a favorite breakfast, then you're in luck. You can have your make-ahead crock pot recipe, too.
14 – Crock Pot Pumpkin French Toast
Another sweet breakfast idea.
15 – Crock Pot Cinnamon Rolls Casserole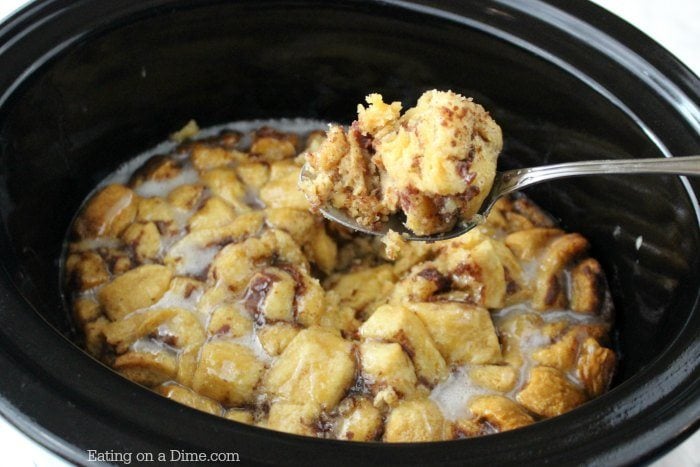 Ooo, can you see ooey-gooey, wonderfulness?
16 – Cinnamon Rolls Backed in a Slow Cooker
Did you know you can make cinnamon rolls right in your slow cooker? Now that's a slow cooker breakfast idea that I have to try.
17 – Crock Pot Blueberry Breakfast Casserole
This blueberry bake is filled with good stuff including fresh (or frozen) blueberries.
18 – Slow Cooker Apple Cinnamon Steet Cut Oatmeal
A slow cooker is the best utensil for steel cut oats. And there are so many ways you can make it your own like this apple and cinnamon version.
19 – Carrot Cake and Zucchini Bread Oatmeal in a Crock Pot
Eating a bowl of these steel cut oats is like a taste of carrot cake and zucchini bread. What a great combo.
20 – Pumpkin Spice Slow Cooker Overnight Oatmeal
Love pumpkin? Me, too? As you can see, this recipe is so easy to put together. It's the smell in the morning… oh my is that good. I might just go full on pumpkin-y and whip of up pumpkin pie coffee drink to go with it.
21- Which of These Slow Cooker Breakfast Ideas Will You Try?
There are so many yummy slow cooker breakfast ideas in this roundup. You might want to start at the beginning and work your way through. That's a good reason for using the big orange button at the top to download a PDF of this post to refer back to. Also, while these are "breakfast" recipes, that doesn't mean you can use them for other meal times. Come back soon and in the meantime,
Stay inspired,