This roundup of dollar store bathroom organization ideas is pure genius on so many levels, including cost. Add one, two or all of these ideas to your home.
1 – Small Plastic Trays are the #1 Dollar Store Bathroom Organization Ideas

Plastic trays are a dollar store storage stable and can be used for so many things, especially in the bathroom. Check out how a variety of small trays are utilized in this bathroom above.
2 – Cheap Dollar Store Baskets Make Attractive–and Extra–Towel Storage
Don't you love how these woven straw baskets look mounted on the wall? And the storage potential… you can't beat that. You never have enough towel storage, especially in a small bathroom.
3 – Plates and Candle Holders Make a Great Tiered Tray to Hold Small Stuff in the Bathroom
This DIY tiered tray is so pretty… and has so much storage potential for small items. It's simple enough to make, too. You just need dinner plates, candle holders, and a super heavy adhesive like this E6000.
4 – A Unique Dollar Store Jewelry Holder You Can Make for Cheap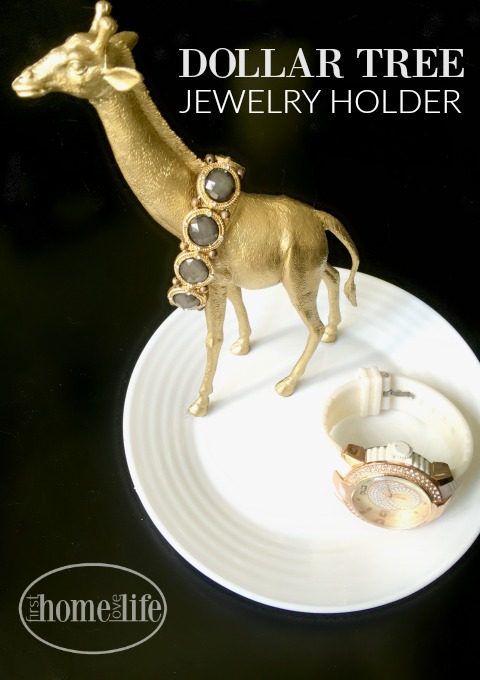 Here is another DIY craft idea with dollar store finds. This one uses a small toy giraffe and plate. The giraffe gets covered with a gold metallic paint and then glued onto the plate. It's stunning, isn't it?
5 – Wire Baskets to Hold Toiletries and Towels in the Bathroom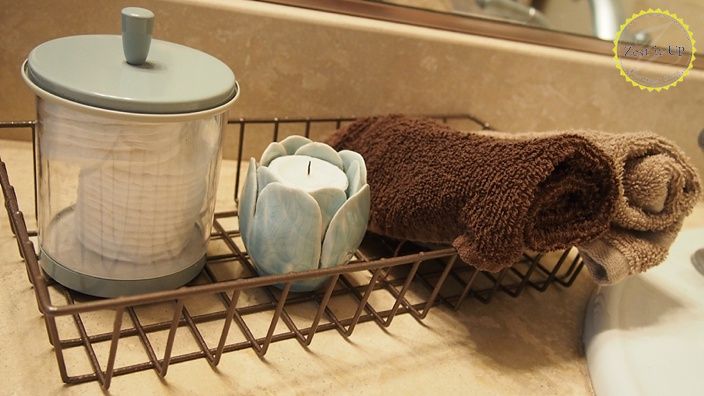 When it comes to dollar store bathroom organization idea coated wire baskets are another staple. And for good reason. They not only hold lots of stuff on the sink counter, but everything looks neat and orderly.
6 – Bathroom Organizer from Dollar Store Jars and a Piece of Wooden Pallet
This is one of my favorite DIY ideas for the bathroom with dollar store finds. Small glass jars with covers are attached to a piece of pallet wood for a rustic, farmhouse look.  The intended area on the jars is painted with a chalkboard paint and the jars are then attached to the wood (yes with a super glue like E6000). Oh, and be sure to add a hanger to the back of the board before you start.
7 – Buy Your Bathroom Organizing Supplies Online from Dollar Tree and Earn Cash Back with eBates
Dollar Tree is one of my favorite places to shop because it has sooooo many things. For sooooo cheap. But did you know you can shop Dollar Tree online? Yeah, really you can and it makes shopping so convenient. Now, here's the thing. You'll usually have to buy items in bulk, like 12 to 24 in a case. But if you looking for the cheapest storage solutions then you know you'll be using all those items.
Want to save more money? Yeah, you can do that while shopping at Dollar Tree Online if you shop through eBates. You might have noticed the big green ad I have running in the left sidebar. It pays you for shopping. Or at least it gives you cash back when you buy from the store they're associated with (and that lots of stores, BTW). There are no gimmicks, just real cash back when you shop. I've been using the service for a few months now and have earned money back, along with extra money for people I refer (and you can, too). It's not the rolling in dough type of dollars but its enough to take Mr. Muse to dinner occasionally (and it should be better when I'm more consistent at using it, but that's another story).
If you're interested in keeping some of your hard earned cash, then take a closer use and use this link to head to eBates. Oh, BTW, if you sign up through this link you'll get $10, too (through 12/31/17).
8 – Keep Small Stuff Organized With This Dollar Store Storage Idea
Stacking bins are perfect for under the counter storage.
9 – More Under the Sink Cabinet Organization for the Bathroom
Here's some more under the counter storage with dollar store bins. Of course,  this idea takes a bit more work with built-to-size cubbies… but it's a genius idea! I also like the wire dish rack that can be used for additional storage.
10 – Corral Hair Dryers and Curling Irons in a Metal File Organizer
This is another of my favorite dollar store hacks. A simple wire file organizer is attached to the size of the bathroom sink to hold a hair dryer and curling iron.
11 – Totally Genius Way to Hold Toiletries in the Shower
This idea is so simple, you'll slap yourself for not thinking about it. Suction cups and elastic ponytail holders. Yup, that's it!
12 – More Shower Storage with Bin (In Pretty Colors, Too)
Here's another idea that super-simple for extra shower storage. Use command clips and small, plastic hampers from the dollar store for shampoos, conditioners, liquid soap or even kids toys. BTW, did you notice how many cool colors many of these dollar store containers come in?
13 – Keep Elastic Ponytail Holder Contained in One Place
Do you find elastic ponytail holders and scrunchies all over the bathroom? We do here At Muse Ranch. If their not mine, they're the Musettes. I love using a large dollar store keyring to contain them all. Now, stash them in one of the plastic tray or hang the keyring from a hook attached to the back of a cabinet door.
14 – Watch How One Woman Organized Her Bathroom with Dollar Store Buys
I love everything Michelle's done in organizing her bathroom. All so neat and orderly. Pinning the chalkboard labels to the bins is such a smart idea. Gotta remember that one.
15 – Which of These Dollar Store Bathroom Organization Ideas Are You Ready to Put Into Place?
I sure hope this roundup of dollar store bathroom organization ideas has been a help. There were some very cool (and easy) DIY projects and lots of ideas to get you organized… for just a little money.
Stay inspired,