This roundup of coffee station ideas will have you one your way to creating your own coffee central, from setting one up to decorating just the way you want.
Blogging and coffee go hand-in-hand. And like the sign above I have to have coffee before and can function. That's why I'm so excited to bring you these coffee station ideas. With everything you need to make your favorite cup of java in one place, there's no running back and forth from the counter, to fridge, and back to the counter. This roundup includes everything you need to set up your own coffee central. So, grab a cup of coffee and let's go…
Coffee Station Ideas to Inspire… and Copy
No matter what your decorating style, there's a coffee station for you. From tiny coffee bars on counters to elaborate stations that would make Martha Stewart drool.
1 – Speaking of Martha, Her Home Coffee Station is Perfectly Organized
But would you really think otherwise? As you can see, Martha Stewart likes her organization and she likes all her coffee makings in one place.
2 – A Tiny Sliver of a Space is all you Need to Create Your Own Coffee Bar
This tiny little space covers a lot, from a pet feeding station to a coffee station. I'd call this big function in a tiny package.
3 – A Simple and Rustic Coffee Station Use a Corner Counter Space
Everything for your coffee bar is in one place in this farmhouse-inspired kitchen.
Want This Look?
4 – A Vintage Inspired Place for Coffee and More
Love this cute little commode dresser as the base for a coffee station. Again, this is one of those coffee bar ideas that takes up just a little space but makes a really BIG impact.
5- Farmhouse Style Coffee Bar with Cow Head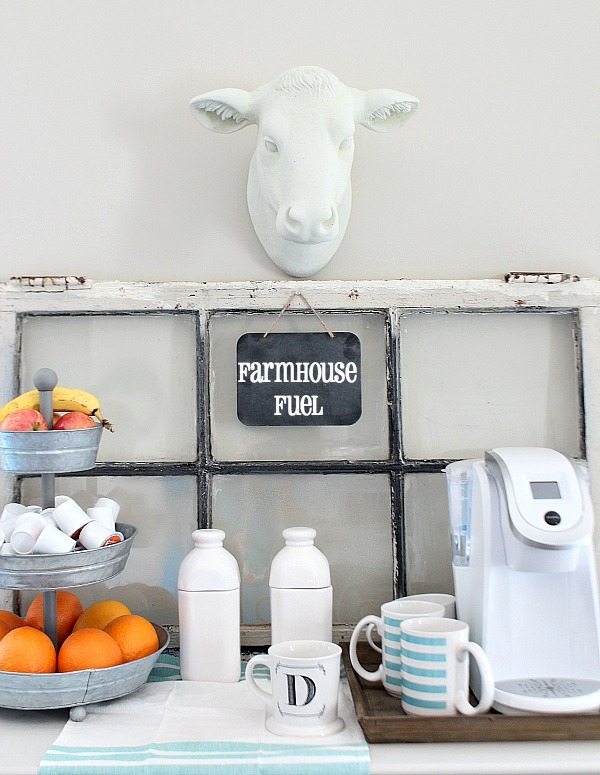 This is such a cute coffee bar idea, but the charm is in the cow head. But don't worry, there's no digging through the flea market to find this one. It's an easy DIY project. Here's a ceramic cow head (already white) that's ready to hang.
6 – Build Your Own Coffee Cabinet
If you've got the building skills–and time–this would make a handsome base for your coffee station. Or…
7 – Keep it Simple and Buy a Rustic Sideboard From Amazon
While this nice piece is sold as a buffet, it could function well holding your coffee maker, cups, and all the other the other coffee fixings.
8 – A Barista's Dream Coffee Station

Love coffee bar's modern, clean lines. And I love more that you can fold the doors and hide everything.
9 – A Corner Coffee Station is Perfect for Small Spaces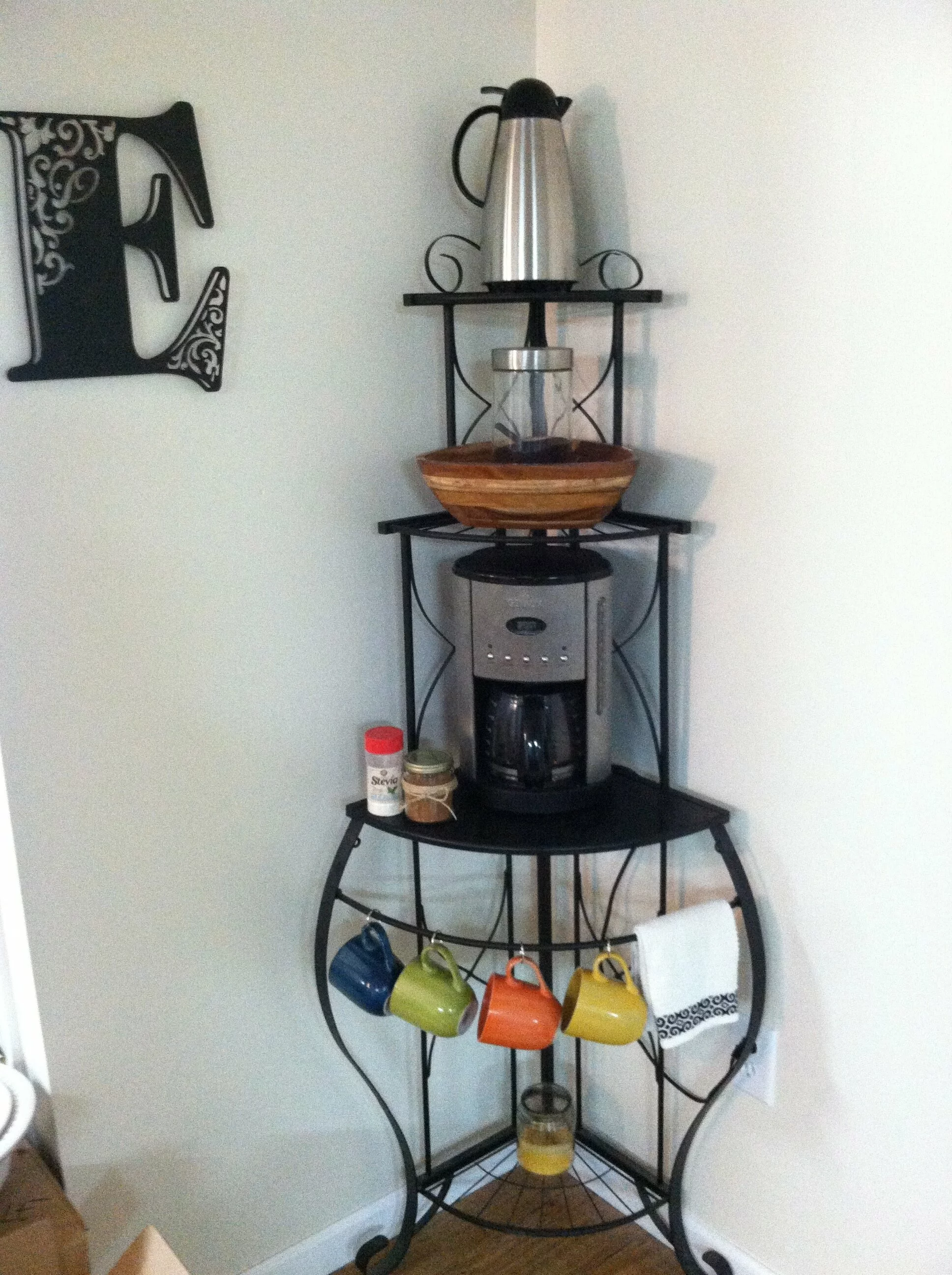 As coffee bar ideas go, this is a very smart one. The blogger wanted her own coffee central but there wasn't much room in her small apartment. Then inspiration struck and this corner bakers rack was turned into a java station.
10 – Here's a Corner Bakers Rack that Would Make a Sweet Coffee Bark
11 – Corral Your Coffee Supplies in a Big Tray
If space is at a premium, then here an idea for you… corral your coffee maker and coffee fixing in a large metal tray. There's even enough room for some small decorations.
Want the Look?
Coffee Station Essentials
Are you looking for some ideas on how to create your own coffee station? Look at these how-tos and the type of products you'll need.
12 – How to Create Your Own Coffee Station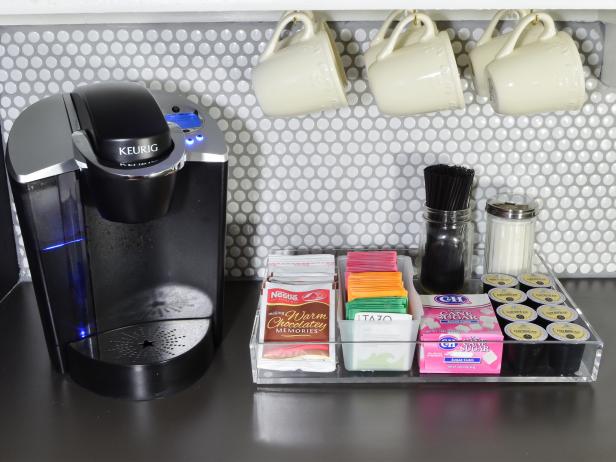 At its simplest, you 'll need a coffee maker, some mugs, and your favorite coffee trimmings.
13 – Where Will You Put Your Coffee Station… Counter, Cabinet, Cart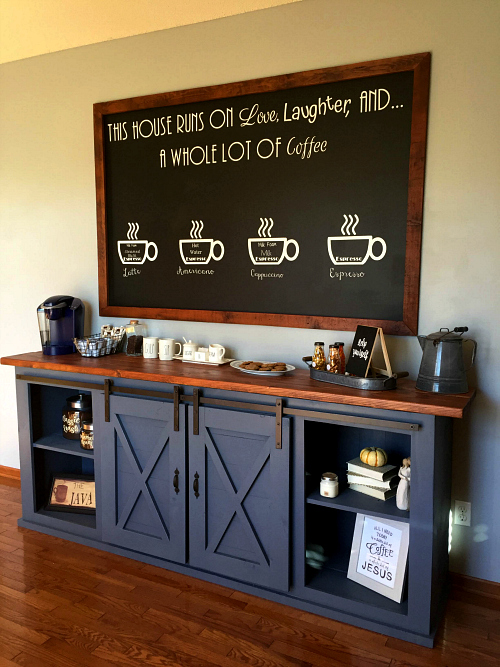 Via lemonslavenderandlaundry.com
Here's the good news… it doesn't matter where or what you put on a coffee bar on. It's all about where you have space. And then, if a space that is efficient. You don't want to walk out of your way to get your latte.
14 – Set Up a Coffee Station Anywhere with a Kitchen Cart on Wheels with Storage
I love kitchen carts for their ease of movement. You can try out different areas in your kitchen until you find your perfect coffee central. It's also great for parties and gatherings. I also just love the bold red color of this one.
15 – Now Don't Forget a Coffee Maker(s) for Your Coffee Bar
Yes, makers as in plural. I've noticed that on many coffee stations, folks have multiple appliances. I'm one of them, too. I have my regular, programmable pot (gotta have the coffee ready first thing in the morning. And then my Keurig on the other corner for later in the day and other beverages, such as hot coco.
Top Choices for Regular Coffee Maker, Keurig Coffee Maker and Espresso Maker
16 – Chalkboards Rule When it Comes to Coffee Station Decor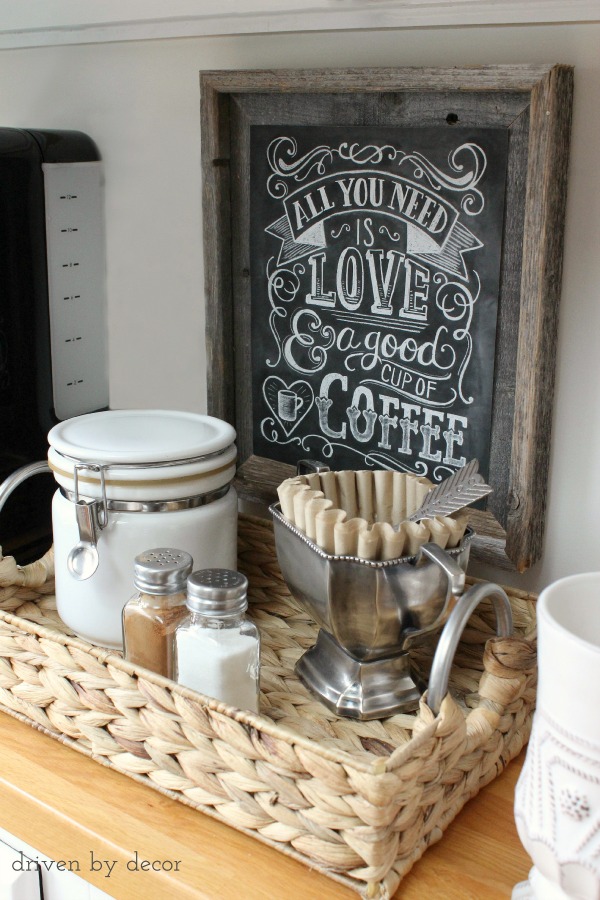 There's a variety of wall decor you can use behind your coffee station. Chalkboards seem to be the toy choice, however. They are cool, aren't they?
Want the Look?
17 – Coffee Menu Blackboard Sign on Metal
Here's another coffee-inspired sign that would look great over the coffee fixings. (And I finally figured out what a "flat white" is).
✔️ For another idea, check out one of my favorite Friday Finds – Chalkboard Coffee Signs. Like the other two above, there's no need for hand lettering your coffee station sign yourself. It's already done for you. 
18 – And What Will You Be Keeping Your Coffee In?
White canister sets are another important design element for coffee bars. Instead of words, the three above use numbers so you can add anything you want into them.
✔️ Did you know you can earn money back on your Amazon Kitchen & Dining purchases? Yup, if you're are using eBates. It's so easy to use and not gimmicky. There are lots of other retailers you can use eBates with and earn money back, too. Real money that you can put back in your pocket. Check it out here and sign up today.
19 – Don't Forget to Get Some New Coffee Mugs?
There's never a shortage of coffee mugs and you have your choice of style. Plain. White. Colors. Images. And words. But when it comes to my coffee mugs, I sort of partial to diner-style mugs like these above (or vintage Buffalo mugs if I can find them). But if you like colors, this, there are a lot of other choices. About nine, in fact.
As I've been researching, I see Rae Dunn showing up in a lot of coffee station pics. They're simple with just one or two words. You can take a look at the selection at Amazon right here.
20 – This Coffee Caddy Keeps Your Pods Organized and In View
If you're a big Keurig fan, then you' like having your pods front and center. This little caddy, which turns is so handy… and good looking.
More Coffee Pod Holders
21 – Watch How to Glam Up Your Home Coffee Station
22 – Wrapping Up this Coffee Station Ideas Post with a Question
I love using my Keurig coffee machine, but the pods are soooo expensive. Elaine at Sunny Simple Life turned me onto her frugal Keurig coffee solution. She buys San Francisco Bay coffee from Amazon and saves a ton of money. It works out to about 0.39 a pod (or less if you do the "subscribe"). And it's good-tasting coffee.
My Favorite Coffee Blend
I hope you found some inspiration (and solid solutions) with this coffee station ideas.
Stay inspired,