Wondering how to organize a home office? I've rounded up some easy and efficient ideas whether you have a whole room to work with or a tiny space. 
How to Organize a Home Office
Determine Your Home Office Space
No matter the size of your living space, you should be able to carve out a home office. You might need a little extra inspiration if your space is tiny, but it's still doable. Take a look at these ideas to see what I mean.
A Whole Room for Your Home Office… How Nice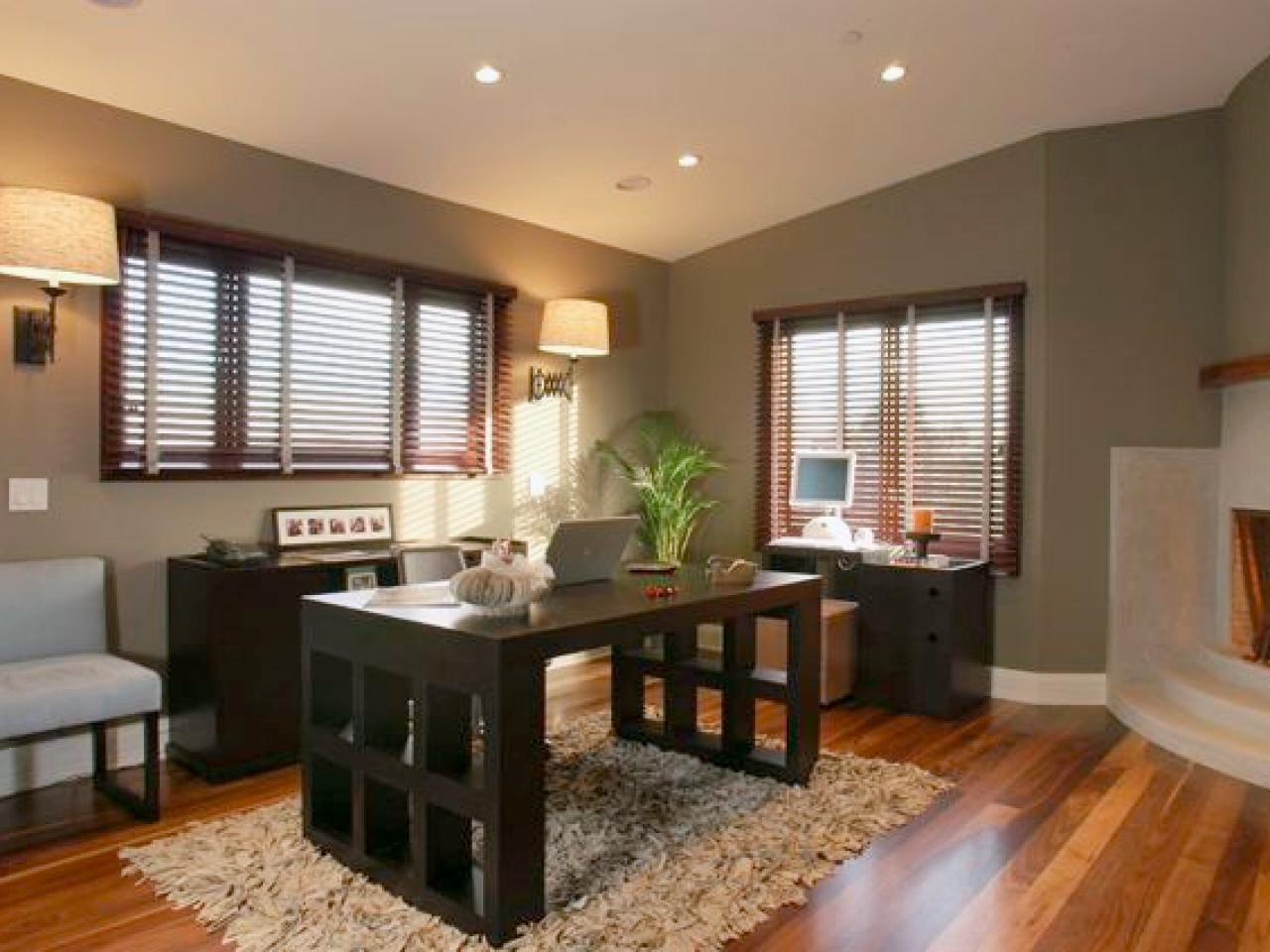 Use a Closet for an Office of Your Own
If you have the room, the sky's the limit on creating your own home office. But…
Even a small closet can become the home office of your dreams.
Use the Space You Have for An Office at Home
Or a small sliver of your living room.
No Room For a Home Office… Think Again
Get Your Paper Clutter Under Control
The most important reason for a home office is to know where all your important paperwork is. Whether that's files for your bills and other important paper, the kids' school schedule or our current work project. But what and how to make it work the best for you it question you need to ask. See, what works for me, might not work for you. Here are some ideas to get you thinking.
All Your Home Office Paperwork in Plain Sight
Hanging files like these above keep all your important paperwork and project front and center so there's never digging through piles to find what you need.
Hold Your Paperwork in Farmhouse Style
Farmhouse style is my favorite here At Muse Ranch and these hanging magazine and file racks are perfect. I could just see them all lined up… with petty decorative file folders.
Keep an Organized Filing Systems and Keep Your Sanity
I love the way Lauren has broken down her filing for all her home bills. You can consolidate (or pick and choose) her ideas and use what works for your need. Also, you'll need to add more files if you also work from home.
10 Things You need to Keep in a Home Safe
Becky from Your Modern Family reminds us that there are lots of things we should be keeping in a fireproof safe at home (doesn't have to be in home office, and definitely someplace that is easily visible, but someplace safe where you and a family can access fast if you need to). Also, make sure everyone who needs to know has a set of keys for the safe or knows where to find them.  Here's what she list and I agree with her totally:
1).  Your will and/or power of attorney… and the lawyer's information.   You will want to keep the lawyer's info with the will so that they will know just who to call if they need it. .

2).  Original birth certificates

3). Social Security Cards

4). Property Insurance info (and again, the number of your insurance company).

5). Medical information: Doctor's numbers, prescriptions, etc..

6). Passports

7). Cash – in case of emergency

8). Titles to your vehicles and one spare key for each car and a key and deed for your house.

9). Marriage Certificate

10).  We haven't done this yet, but you need to make  a DVD of the items in your home.  I have heard horror stories of people that have had to try to remember everything that was in their house with the price of all of it!  This would make things so much easier!

Bonus~ You don't need to do this, but I also have a family picture in our fire safe box.  You could even keep a flash drive of your pictures. 
Home Office Storage Ideas
If you have a home office, you know that there's more than just paperwork and files that need attention. There are there's a whole slew of supplies and equipment that need their own space, especially if you don't want them in your face all the time.
Organize Your Office Essentials in a Cubby
I love cubbies with all the neat little compartments to hold them. And there are so many office storage containers that work well with them, like these baskets, photo storage boxes and magazine files. Everything is so neat and orderly.
Hide Your Supplies (and Clutter) in Colorful Cloth Basket for Storage Cubes
One of the reasons I love cubby storage so much is the big basket you can use. They keep everything contained… and out of sight. And when they are big, bold and colorful like the one above, they add instant style.
A Place for Everything in Your Office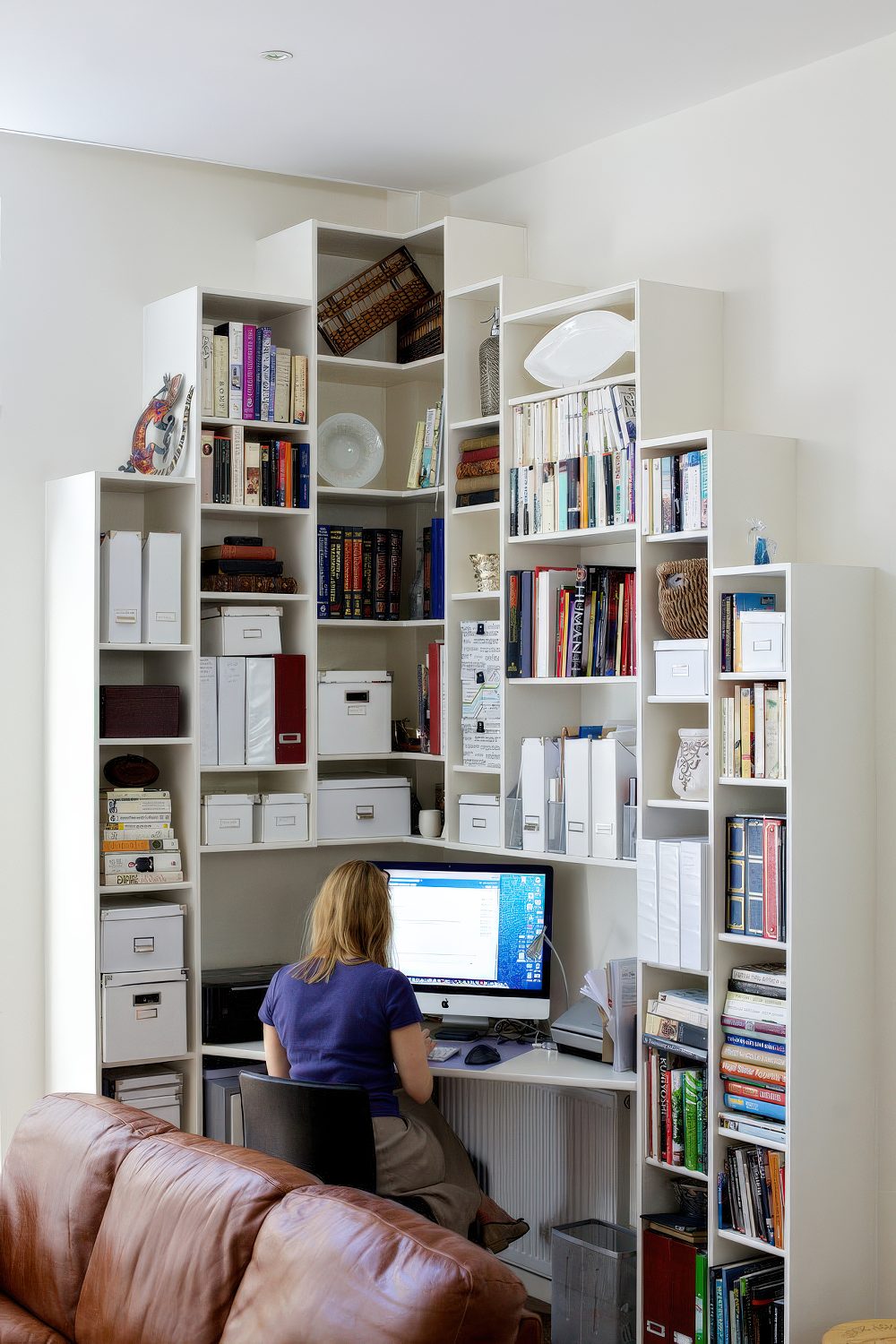 And everything in its place! You need to figure what are most essential things you need for your office space and give them a place.
And Add Hidden Storage Spaces, Too, For Your Office Needs
If you don't want to see some of your office equipment, look for a two-door cabinet to hide them, like this printer hidden above. There's also extra room for your extra supplies, too.
How to Organize a Home Office… Beautifully
While function is important for a home office, let's not forget about the form. It's what feeds out souls and more importantly… keeps out butts in the chair to keep working.
Decorate Your Office Wall with a Fabric Covered Bulletin Board
If you have to keep notes and reminders close at hand, then do with with style and beauty.
Add a Pop of Color and Pattern to an Office Wall
Love this color and pattern for a small closet office.
Make Your Home Office All Your Own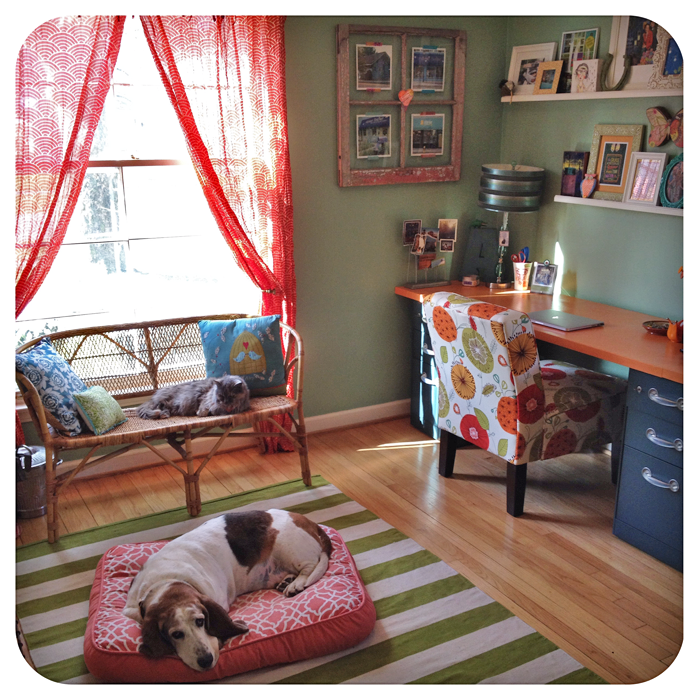 Via catchingfirefliesgifts.com
Oh… and make it their's, too.
I hope you've found some inspiration to help you organize your own home office. I know I have. Until later…
Stay Inspired,