Looking for healthy and delicious meal ideas you're family will love? Then you have to check out these whole 30 chicken dinner recipes. 

Whole 30 Chicken Dinner Recipes
Real foods. That's what the whole 30 diet is all about. It concentrates on proteins, vegetables, fruits and a few legumes thrown in. And it's delicious. The way foods were meant to be. Chicken is a big favorite here at Muse Ranch and one we have two or three times a week. I've rounded up some of my favorite recipes to share with you.
1 – Classic Roasted Chicken 
Ooo, doesn't that roasted chicken look yummy? And that tarragon pan sauce isn't bad, either. It's a classic recipe straight from the pages of Cook's Illustrated and is Whole 30 perfect. Michele shared in on Nom Nom Paleo.
2 – Chicken and Kale Soup in an Instapot
I love my Instapot just for soups like this one. This is a pure, clean soup that's wonderful on a cold evening.
Don't have an Instapot yet? 
You're going to want one. My new 9-in-1 is my most used (okay "only" right now) cooking utensil I'm using. There are lots of models and sizes available on Amazon.
Check them out for yourself.
3 – Chicken Fajitas is the Oven
I know fajitas and you're thinking… "what about the tortillas?" Well, no worries, just wrap those flavorful pieces of chicken, onion, and papers in a lettuce leaf.
4 – Fajita Stuffed Chicken
If you're looking for another way to sure up those fajita flavors, then Kathi and Rachel at Laughing Spatula have you covered with this yummy chicken fajitas recipes, too.
5 – Chicken Thighs with Mushrooms, Bacon and Creamy Gravy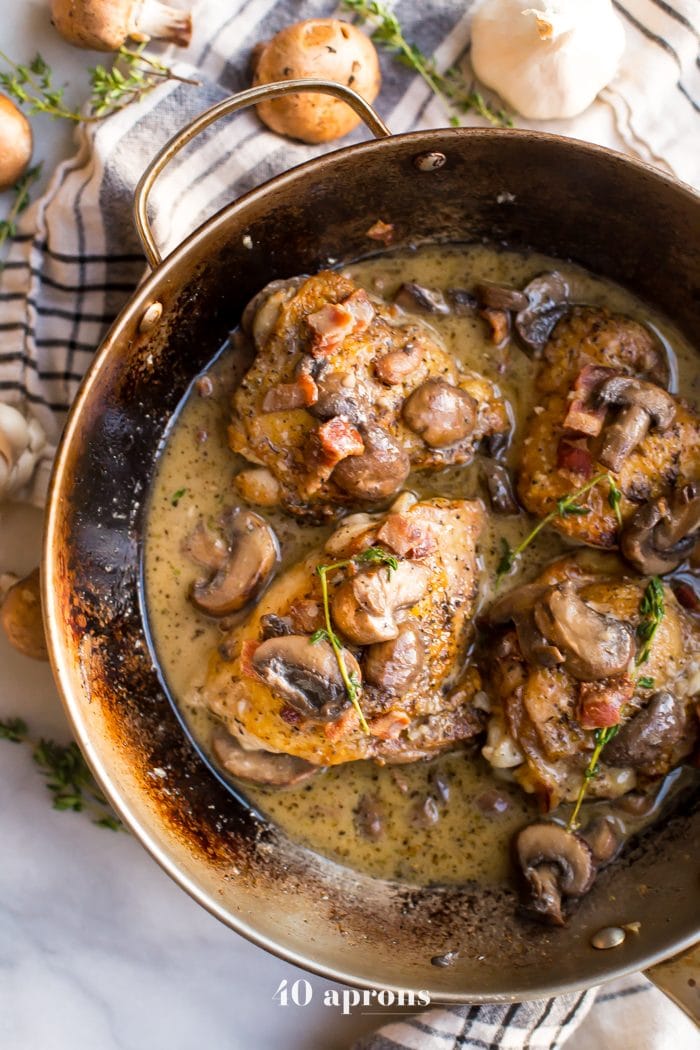 The men here at Muse Ranch love their dark meat so they're always happy to see a Whole 30 chicken thigh recipes served up. And when it's dolled up with mushrooms and bacon, they're all… "bring it on, mama."
6 – Creamy Chicken Breast with Coconut and Lime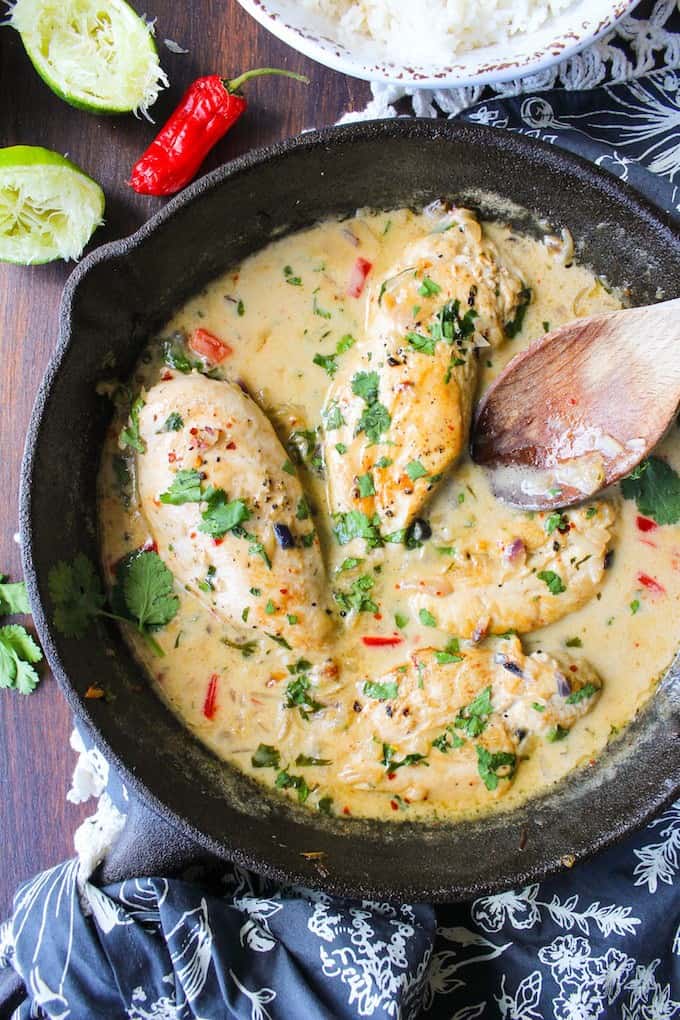 Here's another creamy Whole 30 chicken dinner idea with fabulous flavors. Ooo, give me a spoonful of this sauce… or five or six spoonfuls.
7 – Chicken Salad in Avocado Boats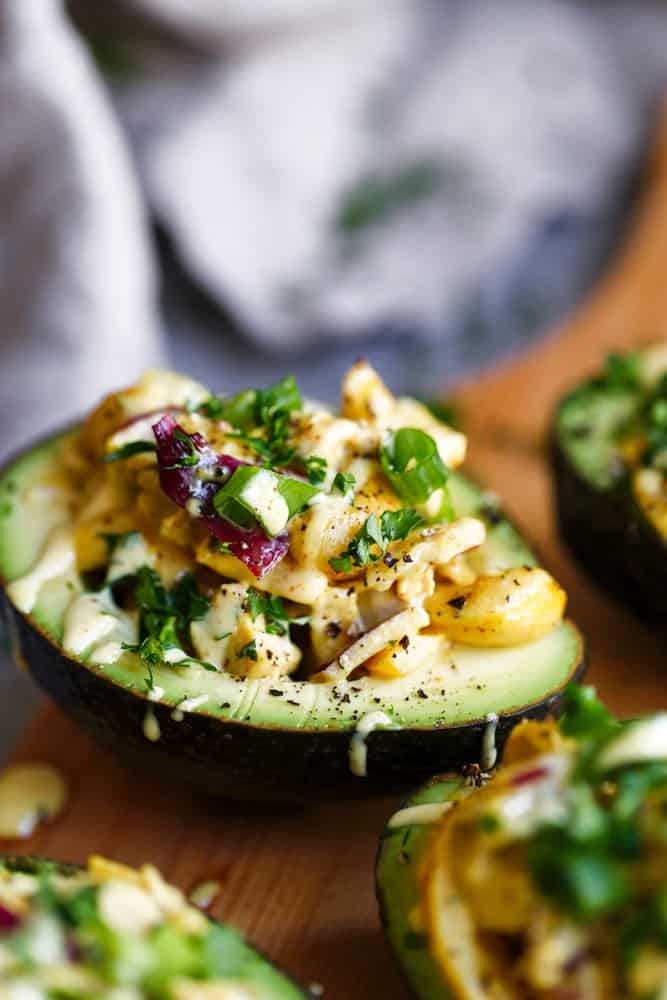 You know that roasted chicken you made the other night? Well, this is what you do with the leftovers. Create a delish chicken salad and fill avocado halves. Oh my goodness!
8 – Chicken Cobb Salad 
Speaking of salads, I think I just figured out tonight's dinner here at Muse Ranch…. chicken Cobb salad. It's a favorite warm weather dinner and since it's been unseasonably warm here (it's 66 degrees at 6:32 am in early February!). I'm going to use my Instapot to cook up a batch of chicken breast (see recipe below).
9 – Chicken Breasts in the Instapot
There are so many ways to use chicken in a Whole 30 diet. Make sure you always have a few at hand and you'll never have to worry about what to make for a healthy dinner.
10 – Buritto Bowl with Leftover Chicken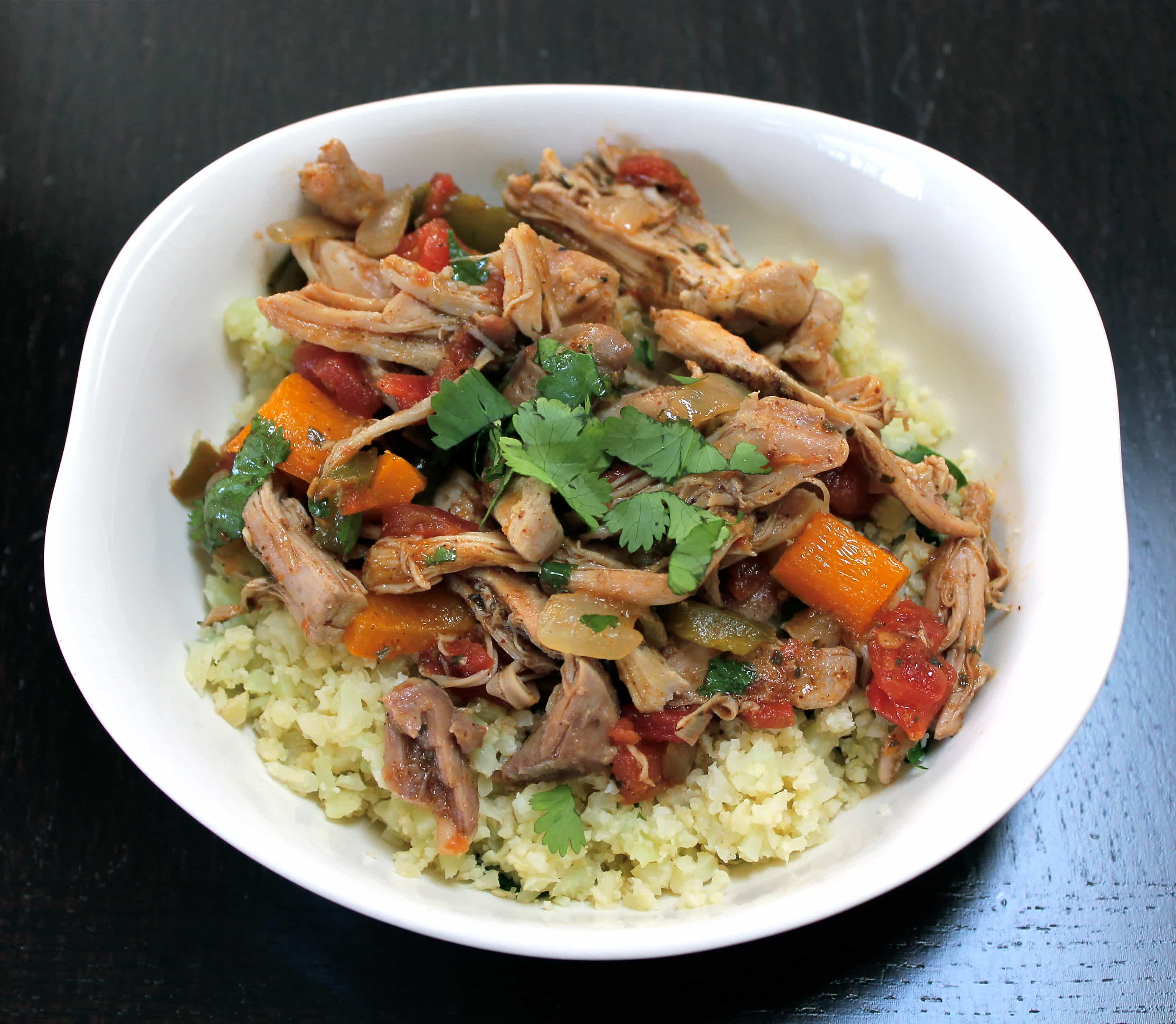 Here's an idea for a quick low carb chicken dinner that fits perfectly within the Whole 30 concept… and with leftover chicken. Burrito Bowls. Cauliflower substitutes for the rice making it super healthy.
11 – Bacon-Wrapped Chicken Breasts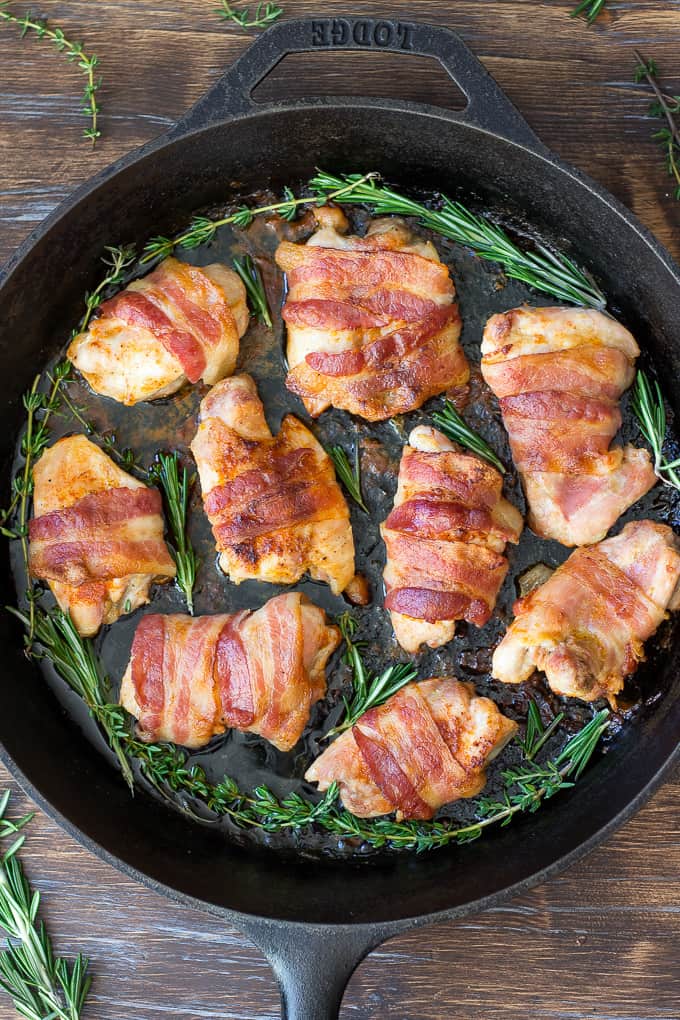 If you're one of those people who think everything tastes better with bacon (Me! Me!), then you'll love this simple chicken dinner recipe.
12 – Chicken Mango Stirfry
There's no need to run out to the local Chinese place when you can make this super favorable–and quick–stirfry at home. Again, the "rice" is cauliflower. Doesn't that look good?
13 – Chicken and Vegetable Stirfry
Here's another Whole 30 chicken dinner recipe that will keep you home… and the family will love.
14 – Chicken and Sweet Potato Curry in an Instapot
If Indian food is a favorite in your house, then this chicken and sweet potato curry is a winner. And, it's made super simple in an Instapot (I told ya I love mine, right?).
15 – Spicy, Crispy Chicken Legs and Cauliflower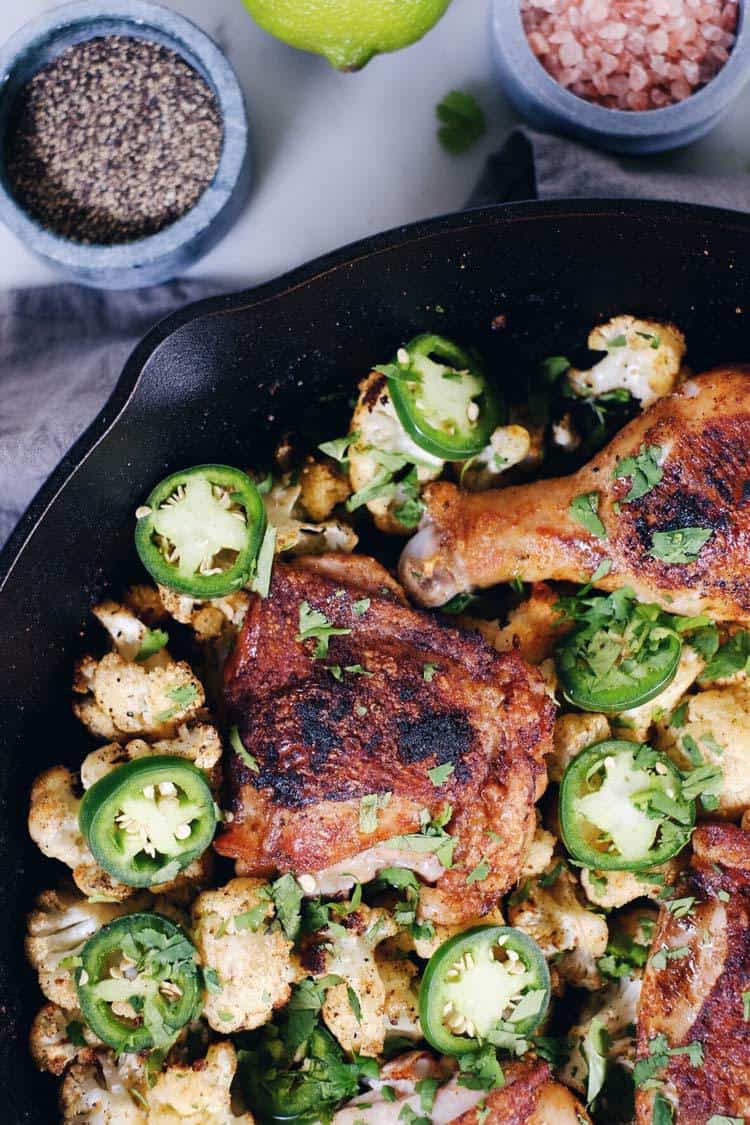 The amount of jalapenos you use is optional.
16 – Cashew-Crusted Chicken Tenders
Oh, yum, the best Whole 30 chicken dinner recipes… in under 30-minutes.
Stay Awesome and Eat Healthy,